News and updates from America's home for digital asset trading.
What we're exploring next at Binance.US
Greetings Binancians,
We've been hard at work these past two months!
What we've been up to:
Binance.US is your new gateway to the crypto world. We've welcomed users that are experienced traders and newcomers alike, and we're building out the best user experience for all of you. Here's a quick recap:
Listed 19 new tokens in addition to our original seven

Added debit card transfers

Increased ACH limits to $30,000

Launched VIP Program (Trading Fee Tiers)

Launched BNB fee discounts (25% lower trading fees for holders of BNB)
What we continue to do:
Provide FDIC insurance coverage for USD deposits

Celebrate new users with a $15 sign up bonus + 30 days of free trading

Welcome energetic people to join our team in San Francisco

Build more ways for you to explore the digital asset economy through Binance.US!
What's ahead:
Binance.US is a reliable and inclusive marketplace for everyday American users, bringing the freedom of choice to buy, sell, and access the most diverse selection of high-quality digital assets, without high fees. Binance.US allows users to be part of the open and competitive market that discovers projects with true utility. When you ask, we listen. We build for you.
Our priority to continue exploring more digital asset listings for our users runs in parallel to our efforts to deliver a mobile application and more access to new states we currently do not operate.
Binance.US recognizes that the ease of issuing blockchain tokens and the perceived lack of regulation could make these tokens targets for abuse. Binance.US has both legal obligations and moral duties to shield our users from fraudulent blockchain projects and combat financial crimes.
As we've mentioned, Binance.US has adopted a Digital Asset Risk Assessment Framework to read more about it refer to our original blog post: "What We're Exploring / August 9, 2019."

Today, we wanted to share the next batch of digital assets going through our evaluation through our framework for listing on the Binance.US marketplace: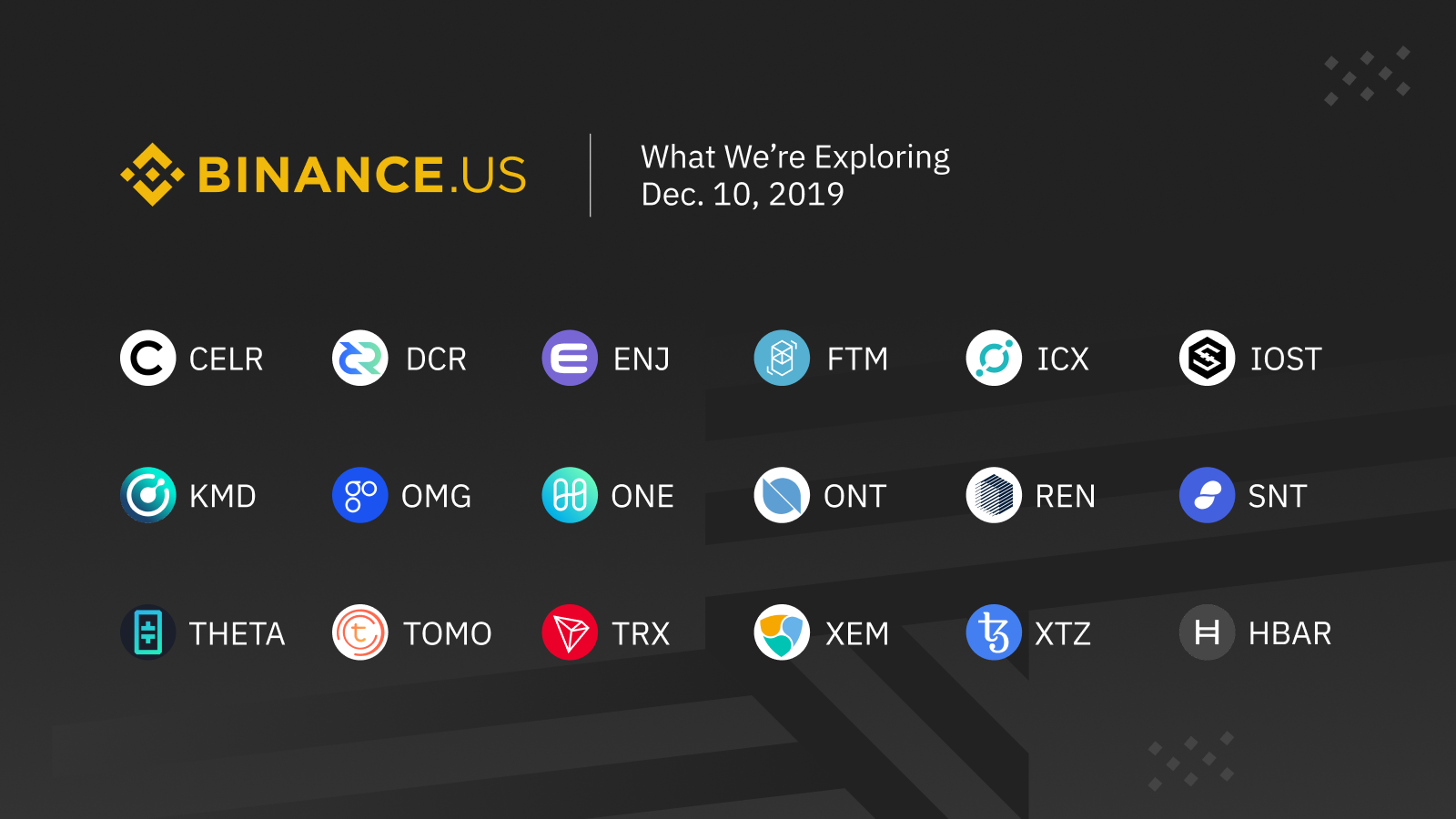 Tokens we are examining to ensure they meet our listing criteria for Binance.US: CELR, DCR, ENJ, FTM, ICX, IOST, KMD, OMG, ONE, ONT, REN, SNT, THETA, TOMO, TRX, XEM, XTZ, HBAR.
Remember: Please Do your Digital Homework.
While we are pleased to share the next listings we are exploring, we encourage you to learn about what we have already explored and are looking to explore by doing your digital homework, too.
Learning more about blockchain and digital assets is easier than ever. Head over to Binance Academy to get started learning about the crypto ecosystem.
We believe in educating, not intimidating.

We're excited to share what we are exploring next and where you can find more information about crypto markets and trading terminology.
We appreciate your requests and feedback as it helps us build better ways for you to access and interact with the digital assets economy every day.

Thank you for joining Binance.US!
- C. Coley
P.S. Be careful what you wish for!