BUSD - A Secure and Stable Cryptocurrency
Backed by U.S. dollars, Built for the Binance ecosystem and beyond
Why Stablecoins Matter?
Stablecoins are digital assets that are designed to maintain a stable price, rather than experience significant price movements. Traders and companies may need this stable alternative when trading around volatile cryptocurrencies or when sending/receiving money without price changes.
BUSD is a U.S.-regulated stablecoin, fully backed by U.S. dollars: 1 BUSD = $1.00 USD. BUSD offers faster ways to fund your trades and is acceptable as a medium of exchange, store of value, and method of payment across the global crypto ecosystem.
Learn more at Binance Academy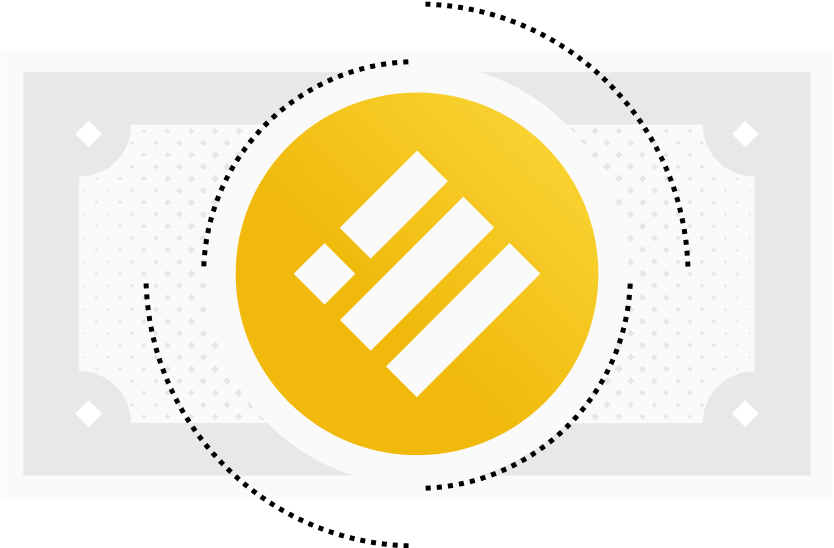 How to get BUSD
Convert USD to BUSD

Purchase BUSD with your Binance.US cash balance or debit card, or through an ACH transfer.

Trade in Markets

Binance.US supports multiple ways to trade other cryptocurrencies into BUSD.
What is BUSD
Price-stable, USD-backed digital asset

1:1 fully USD-backed, easy to convert value of exchange between USD and BUSD.

US Regulated by NYDFS

Approved and regulated by the NYDFS, ensuring consumer protection.

Available across all Binance ecosystems and beyond

Built on ERC20; easily stored in an Ethereum wallet.
Frequently Asked Questions
1. What is BUSD ?
BUSD is a new USD-denominated stablecoin approved by the New York State Department of Financial Services (NYDFS) launched in partnership with Paxos and Binance.
2.How is BUSD secure and stable?
You can always buy and redeem BUSD anytime 1:1 with USD.
3.Is BUSD backed by U.S. dollars?
BUSD is 100% backed by U.S. dollars held in FDIC-insured U.S. banks.
4.Who is the issuer of BUSD?
Paxos is the USD custodian and issuer of BUSD.
5.How can I get BUSD?
Buy directly with debit card, ACH or your USD balance under our Buy Crypto page. Alternatively, you can find BUSD trading pairs under our Markets.